Hubtobee Travel:
the shared business travel calendar
Stop running into your colleagues by chance. Travel smartly.
Request a demo
Discover the benefits of Hubtobee Travel for your company.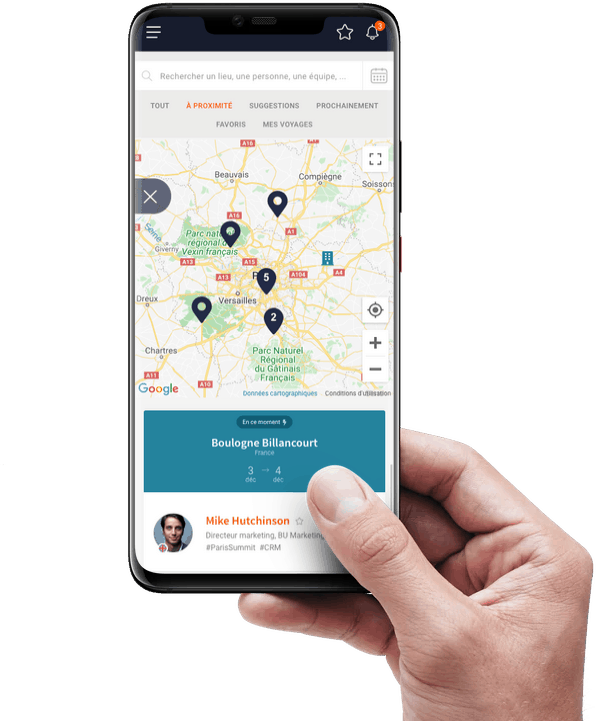 Finally, a simple way to know who is traveling,
where and when within your business.
Hubtobee Travel is a tool for both travelers and office-based employees that enriches the potential of Business Travels to make it a powerful lever for transversality, agility, and growth. Our turnkey solution integrates perfectly with existing business tools (Microsoft Outlook, Gmail, Lotus), travel agencies, and OBT.


View and filter trips, find your colleagues

Make appointments and meet colleagues who are traveling nearby

Weekly email notification of visitors at your workplace

Automatic sharing of the scheduled trips

Security of personal data and respect of the confidentiality

Integration with existing tools, immediate deployment
Request a demo
Discover the benefits of Hubtobee Travel for your company.
Four reasons to choose Hubtobee Travel
The unique solution that reinvents business travel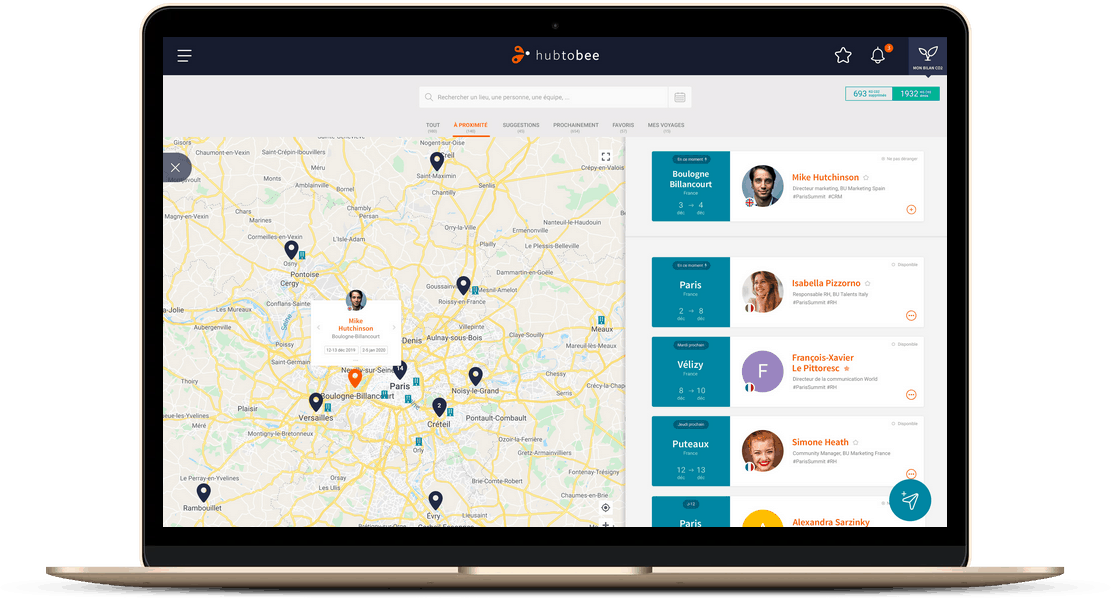 Your colleagues are traveling, find out when and where.
In the blink of an eye, check out the flow of business trips shared by colleagues in your company. This participative calendar lets you know who is coming to your workplace and who will be in the same place as you during your next trip. An innovative and fun way to meet colleagues from all over the world and to travel smarter.
Develop your network, double your opportunities.
The application allows you to quickly identify new contacts depending on where you are: on the move or at your regular workplace. Select the relevant travelers by using filters according to your interests. Set up a meeting with them in just a click. Developing your internal network and detecting new connections has never been so simple.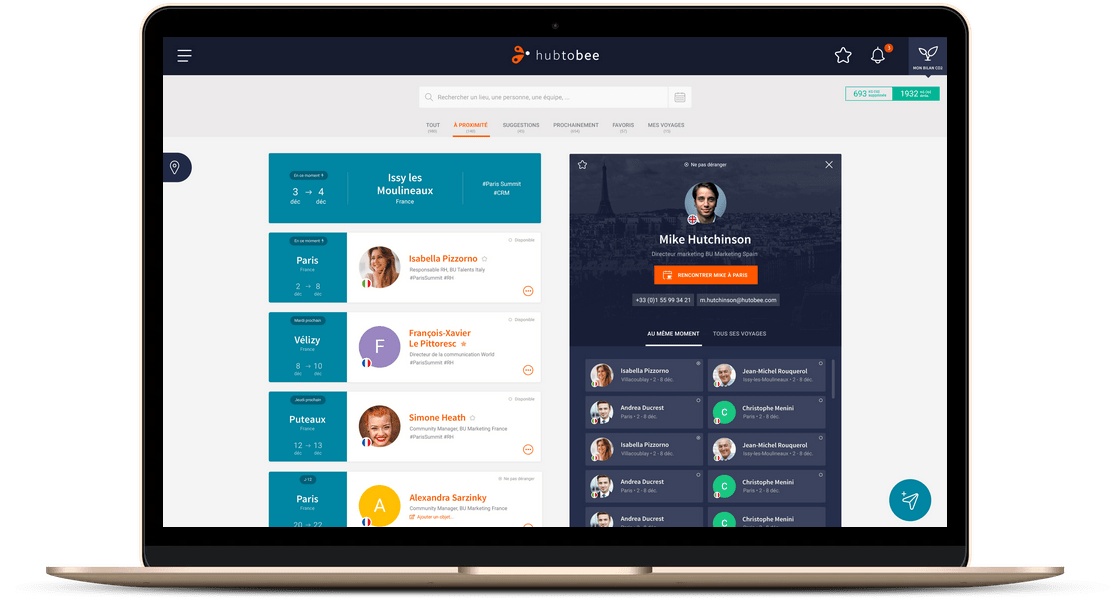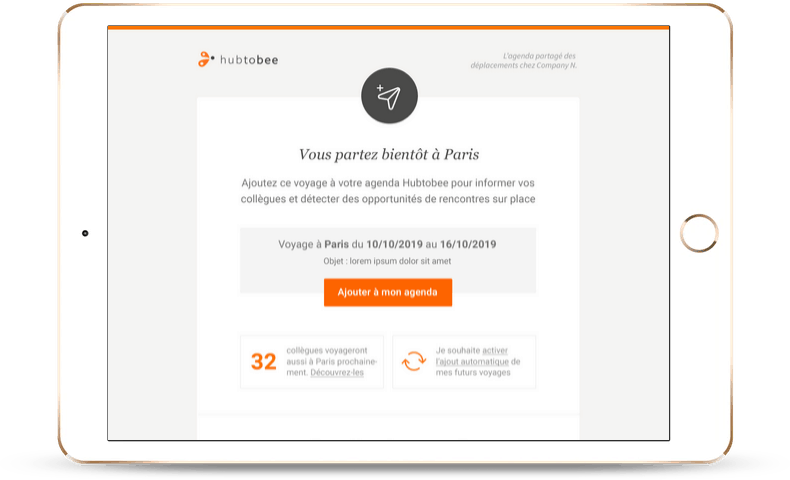 Share your trips, become visible effortlessly.
A simple click allows you to share your trip and become visible to your colleagues. Publish your upcoming trips to maximize meeting opportunities, communicate your schedule with your team, and boost your projects. Take the opportunity to avoid unnecessary mailing and carry a colleague's parcel: it is more eco-friendly and less costly!
Reduce your carbon footprint, increase the number of meetings.
Our Business Travel solution allows carpooling to optimize the negative impact of commuting and reduce the company's carbon footprint. Sharing a taxi or a rental car, saving a trip or taking advantage of a colleague's trip to transport mail and parcels becomes easy with Hubtobee.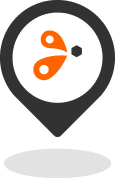 Our mission is simple: to travel better
Discover the benefits of Hubtobee Travel for your business
Reduce silos by connecting travelers and office-based employees
Meet more colleagues, while traveling or at your office
Plan trips based on your colleagues' travel agenda
No missed opportunities: "If only I knew you were
here ..."
Manage the inflow to subsidiaries and avoid peaks
Reduce travels and eliminate redundancies
Improve ticket booking anticipation
Combine costs: taxis, couriers, office rental, etc.
Request a demo
Discover the benefits of Hubtobee Travel for your company.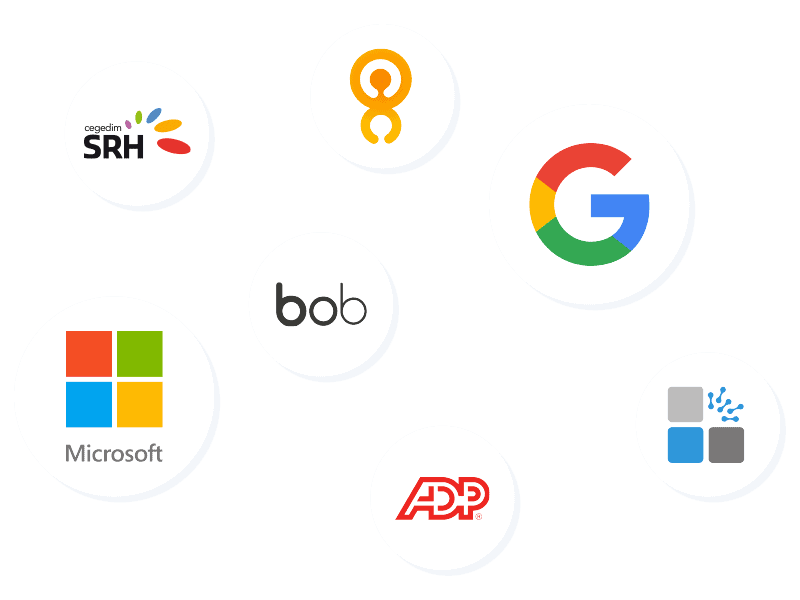 A simple, secure and fully-integrated solution.
Hubtobee Flex is a turnkey SaaS application that can be easily integrated into the organization's systems. Our solution is GDPR-compliant.
You are in a good company