Hybrid Workplace Solutions You Need to Transition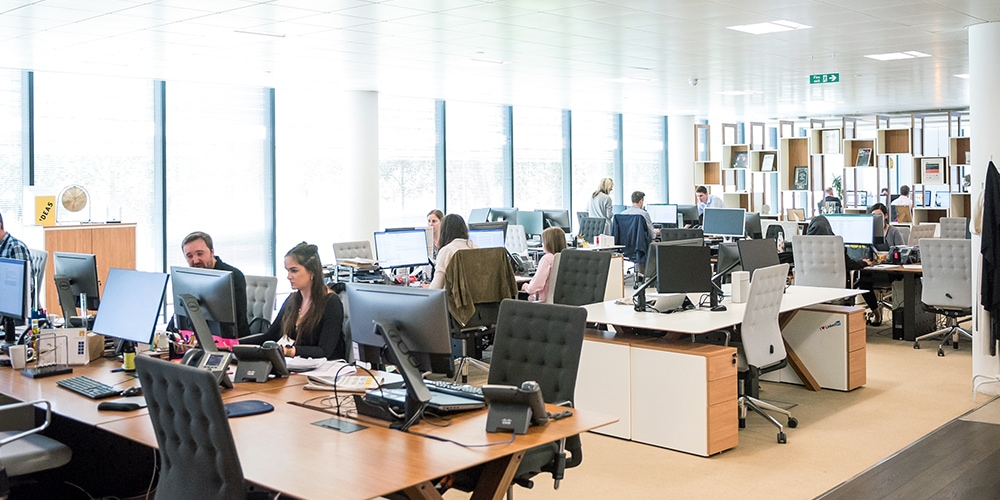 A hybrid workplace is a hectic place. First, not everybody is in the office. But, then, those who are present might not even have personal work desks; they can be found anywhere. At the same time, everyone (hopefully!) stays connected through the usual conference calls and chats. So how do you keep work processes smooth and, moreover, productive?
Naturally, you'd look for various solutions and hybrid work tools that help keep everything on hand, manage remote work, organize offices and teams, keep everyone connected, and maybe even have some fun with it. In our own attempt to organize our thoughts, we've made a rundown of the most common aspects of hybrid work that make great use of digital tools available on the market.
What's Hybrid Work, and Why Do Companies Transition to it Now?
A hybrid workplace is a mix of both physical and digital workspaces. In this way, hybrid work models provide more convenience, comfort, productivity, and cost-efficiency to the workplace.
Usually, employees combine in-office and remote work days within a week. Some companies select in-office days for everybody to show up; some give employees the freedom to choose and decide on in-office days with their colleagues. There's no one rule book to develop a hybrid workplace strategy. Instead, every company balances its corporate values and business goals with employee interests and needs.
What's common, however, for the businesses transitioning to hybrid is how it has come about. Since 2020, many got to experience obligatory remote work. With multiple challenges and upsides, everyone went through their own experience. Some swear by remote work; some still detest it or can't afford it. As this 2022 WTW survey shows that most like it, though, companies are taking note. 79% of leaders plan to allow employees to split work time between the office and other locations, a 2021 study by WeWork reveals.
When it comes to setting up and maintaining a hybrid workplace, there are a few areas of focus:
Efficient remote task management
Community and office organization
Easy-to-use online meetings
Keeping up connections within teams
These elements require appropriate solutions, so let's go through the hybrid work tools one by one.
Set Up Remote Teamwork as a Priority
As the lines between offices and homes blur, finding ways to work efficiently as a remote team is becoming increasingly necessary. While this setup has many benefits, the lack of direct communication and face-to-face interaction can cause unique challenges for collaboration.
So effective task management is vital for remote workers to keep up with progress, track tasks, manage deadlines, and stay connected with remote colleagues. Tools like Asana or Trello work remarkably well for remote team management.
Asana is a cloud-based project management platform that helps teams organize, track and improve their daily workflow. Managers and employees can break down their large-scale tasks into smaller action items, prioritize tasks, monitor progress, and collaborate with colleagues. It also allows teammates' communication, reporting, and various integrations to ensure all projects are moving along according to plan.
Trello is another popular task management system that uses customizable lists, cards, and boards to manage tasks. It is a flexible tool for collaborative work, communication, and task progress monitoring. It can be used to adapt to different workflows and, most importantly, be set up almost anywhere by having a browser and an internet connection.
What's good about these systems is that they don't need specialized approaches to be installed and used. They are subscription-based, though; the costs would vary depending on the team size and the company's needs.
Regardless of the tool chosen, task management for hybrid work should be organized, transparent, and accessible. It should ensure that everyone in the team knows who is responsible for every task and when it is due, thus auditing the work process and making sure the team is working together effectively.
Move from Desk-sharing Software to Innovative Office Organization
Once you have efficient remote work figured out, the question stands: what do you do with those employees that show up in the office? Organizing and managing an office, especially a remote one, can be difficult.
First, you have to consider your office's actual size and design. If you don't have all your employees there simultaneously, consider switching to a smaller office to save on rent. After the pandemic, many companies reasonably do so. For instance, CBRE's Spring 2022 Occupier Sentiment Survey results show that 62% of large companies expect to downsize their office space over the next three years, while 84% of this study's respondents say hybrid working arrangements are the reason.
In a smaller office, the need for personal desks diminishes, so you need a system to manage workplaces that are not permanently assigned to specific team members. This principle is called desk hoteling or hot desking. It offers flexibility, simpler logistics, cleanliness, and visual decluttering.
Luckily, solutions are available for easy scheduling and booking of workspaces and office organization. For instance, Hubtobee Flex offers a full view of employees' presence and office space use. It covers aspects like scheduling and reserving resources (including parking and company restaurant), managing workflows and WFH requests, and getting data on team attendance, office occupancy, and space usage. All this to make better decisions about the hybrid office and align WFH and hot-desking policies with the company's corporate culture.
Additionally, the solution is enhanced with AI that gives smart recommendations on when to come to the office and where to book a workspace based on the team's or community's activity and informal meeting requests. This way, the application empowers interactions and collective intelligence for the most efficient corporate hybrid environment.
Care for Efficient Online Meetings and Collaboration
As office attendance is linked to valuable connections among colleagues, so are online team meetings. They are unavoidable now, so it's an excellent strategy to know how to make the most use of them, both for employees and the CEO Suite.
Caring for this vital aspect of hybrid work enables efficient online meetings that reduce time wasted on organizing and setting up. Apps like Zoom, Google Meet, and Microsoft Teams are all excellent collaboration tools for online meetings with remote employees.
Zoom, for example, features video conferencing, screen sharing, and hosting of webinars so that teams can collaborate virtually in the same way they would in a physical meeting.
Microsoft Teams is another popular tool that enables collaboration in the workplace. It offers video, text, and audio messaging, as well as file sharing, which makes it an ideal choice for remote teams.
Google Meet is an enterprise-level video conferencing solution that enables teams to connect and collaborate quickly and easily. It also provides screen sharing, recording, and scheduling features so that schedules and meetings are easier to manage.
With these tools, it's important to consider online etiquette and provide short training for employees to use those the most effectively. They might be trivial tools, but learning to use all features they provide will save time, effort, and stress in the long term.
Never Lose Sight of Team Bonding and Fun
Hybrid work environments require special attention when it comes to maintaining connections within the workplace. It is vital to have a way to keep up the company culture and community, no matter the current working arrangement. Digital event platforms are an excellent way to foster team connections and have fun in the remote workplace.
Gather is an online event platform that helps teams engage with each other virtually and have a great time. Many features, such as game rooms and breakout rooms, allow teams to bond and interact on this gamified platform with an 80s vibe. It's a great basis for team-building activities.
Chrome Watch Party is a great tool for watching videos with colleagues, be it films, TV shows, or training materials. In addition, it offers different ways to interact during the session, such as trivia games and polls, and allows teams to stay connected despite being physically apart.
Using these digital event platforms allows employees to stay engaged while at home and create remote spaces to bond over shared interests and activities. In this way, even the remote team members can feel as engaged as if they were in the office.
Communicate Online Effectively
An honorable mention of our overview of various tools to manage hybrid teams is the proper use of email and group chats. Here, trivial and well-known tools can make a world of difference if used efficiently.
Proper use of emails and group chats ensures that everyone gets the most important information on time. But that's not all. The team should be able to communicate in an efficient and organized way while always taking the well-being of their teammates in mind.
Encourage your team to invest some time into online communication training. It doesn't have to be elaborate or time-consuming. What to cover during the digital communication training session? Email etiquette: format, tone, reply delays, agenda setting, etc. Group chats? They are often forgotten and can end up being a place for jokes, leading to distractions. There should be rules and expectations set up: length of messages, context, use of emojis, etc.
Investing a bit of time and effort into this will ensure the team can communicate well so that everybody is on the same page and that work gets done on time.
Make Hybrid Workplace Productive, Social and Fun
When done correctly, transitioning to a hybrid work model creates an agile and productive work environment where employees thrive and find joy in their work. So remember to harness the power of technology on top of proper digital communication training to ensure a successful hybrid workplace.
However, what makes a hybrid workplace even better is considerate management of the social aspect. When transitioning to the hybrid way of working, make sure to consider intangibles, such as team spirit, connectivity, trust, and morale. Jointly with motivation and productivity, they build the collective intelligence that teams benefit from.
Smart management of a hybrid team involves collaboration in and outside the office and building reliable dependencies within teams. With the help of the hybrid work tools mentioned in this overview and the practice of good digital communication, you can be sure employees enjoy a virtual space where creativity, collaboration, and collective intelligence are fostered.
---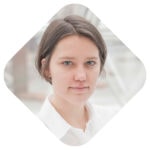 Halyna OSADCHA
Guest Writer, a Hybrid Work Devotee.