How to transition to Hybrid Work Model in Four Steps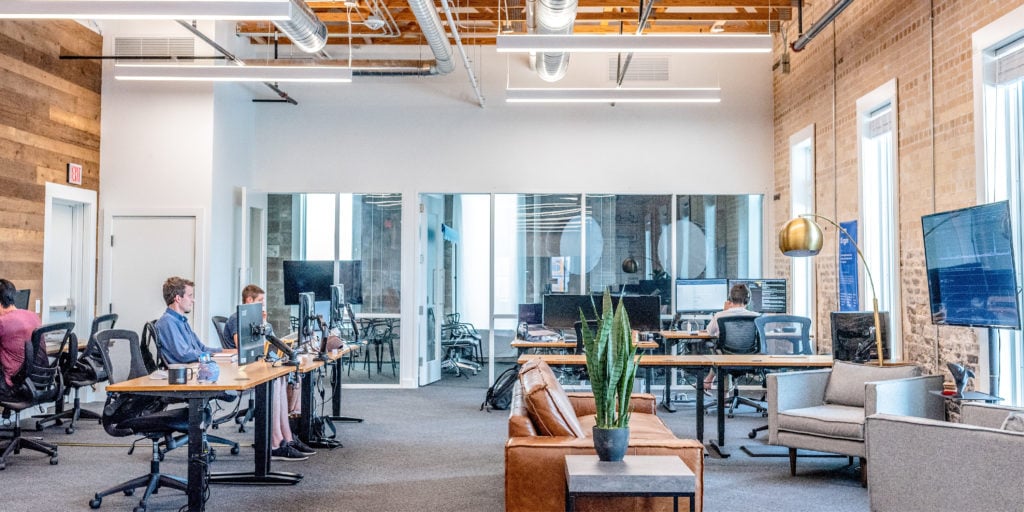 If you have scrolled recently through your LinkedIn feed or scanned the titles of the latest Forbes articles, you must have noticed the incredible amount of content dedicated to the hybrid work model.
All of them state the same obvious truth: the future of work is hybrid.
Employees prefer to work from home to achieve a better work/life balance and to spend less time commuting. Companies give more flexibility to their employees to save on office space and attract or retain talent.
While it is evident that work organization needs to adapt to the new hybrid realities, not a lot of experts actually write on how to do it successfully.
The reason being that nobody knows, leading to a majority of organizations having no plan in place on how and which hybrid work model to implement.
The shift to a hybrid work model will be gradual
Starting from September 2021, enterprises in France are not obliged anymore by the government to implement remote work in order to stop the spread of COVID-19.
Therefore, September marks the beginning of the liberal transformation towards the hybrid work organization for the French companies.
The great experiment begins.
Forbes expert in managerial innovations and changes, David Autissier, foresees that companies will need on average three experimental cycles of three to four months to figure out and establish the best-suited hybrid work model.
If that's the case, the results of the transformation will be visible the earliest in mid-summer 2022.
Companies that didn't practice hybrid work before the pandemic will have the hardest time adjusting. They will have to go through four distinctive steps to decide on the work model to put in place: agree, organize, manage, and replan.

Step 1: Reaching a remote work policy agreement
The transformation towards the hybrid work environment will start with reaching an agreement between all the shareholders on the Remote Work Policy.
Executives and employee representatives will have to primarily decide on the number of days designated to remote work and the minimal amount of time that each employee has to be present on site.
The autumn months have shown that a 60/40 ratio or 2 days at home and 3 days in the office is the most common model.
It allows employees to have enough stress-free time on one's own to fulfill operational tasks while avoiding the loss of social connections and its negative impact on collective intelligence.
The Remote Work Policy should also define the spatial dimension of working from home. It is complete, only if it answers all of the following questions:
What are the eligibility criteria for the remote workplace?
Can employees work from wherever? Is there a problem if an employee decides to work from abroad or a third-party coworking?
What are the quality requirements regarding working conditions at home?
Once the agreement on these questions is reached, the second stage begins.
Step 2: Finding the right tool to organize hybrid teams
Companies have to provide employees with the right tools to make reasonable choices on when to work remotely and when to go to an office, as well as the tools that will allow them to collaborate from anywhere.
Nobody wants to spend an hour in the crowded metro to find out that no one from their team is in the office today, right?
Well, that's why HR should equip employees with a practical and collaborative solution to not only organize but also share their presence schedules.
Last but not least, such a solution should be used to frame and document the work-from-home agreement from the previous step.
During the pandemic, organizations were mostly relying on Excel to manage their employees' presence, hoping that one day everything will just magically go back to normal.
Today, when hybrid work is more real than ever, executives are searching for more interactive, simple digital solutions to organize the workforce.
The number of start-ups and SaaS applications that have appeared in the last year to help employers in their transformation towards the hybrid work mode is skyrocketing. Hubtobee is not an exception.
It can be hard to settle on one solution among this many. When choosing a hybrid work management tool, ask yourself the following questions:
Does it easily integrate into your HRIS?
Can it be customized depending on the evolving needs of different company departments/employees?
Is it easy to use (for both employees and their managers)?
Will it save HR a significant amount of their time?
Is it secure and GDPR-compliant?
Does it answer all your needs (desk or meeting room reservations, shared calendar of work organization, dashboard with aggregated data on space / work-from-home usages)?
Don't hesitate to talk to your Real Estate, HR, and IT departments to get their input and recommendations.

Step 3: Defining and sustaining efficient management of hybrid teams
Probably the hardest yet the most rewarding stage.
Compared to the first two steps that are more of a one-shot project, this one has to be continuous, making it difficult to get through it.
On top of that, the risk of managers getting a work overload and ending up burnt out is increasing with the development of hybrid working.
Managers are often obliged to redouble team coordination and individual follow-up time to reach a balance between the administrative procedures of the one-to-one support and the organizational needs of collective activities.
Moreover, they need to constantly encourage their team members to meet in person in order to maintain social ties and cultivate collective intelligence, while giving them enough space and autonomy to feel comfortable and empowered.
Best practices of leading a hybrid team and avoiding burnt-out include:
Scheduling at least one day in a month when the entire team is on-site and planning for engagement activities. Haven't heard of Zoom Fatigue?  It refers to the physical and mental exhaustion as a result of constant virtual meetings. Seeing each other in person can bring up spontaneous and sincere conversations between colleagues, revealing not only various pain points around their jobs but also solutions for them. Hence, the only thing left for the manager to do is to streamline such interactions, listen, and take notes.
Being clear on what you expect from your teammates. Digital tools from Step 2, such as Hubtobee FLEX, can help managers frame their expectations regarding the frequency of in-office days to avoid misunderstandings. Task Management Applications, like Trello, Asana, or Monday, can help keep track of projects planned and done and their deadlines.
Measuring everything to constantly evolve. Data is a key to your success. Monitor when and where your team is the happiest and the most productive to adapt your management practices and hybrid work routines and achieve the best results.
Step 4: Replaning your office space to better serve hybrid teams
The final step to a successful shift to a hybrid work model is effective workspace management.
After defining a Remote Work Policy, organizing the teams' presence on-site, and implementing the best hybrid work management practices, it's time for companies to rethink their office spaces.
If before the office was simply the space where the work has been done, whatever form that took, in the hybrid work reality we start to think of the office as a social hub.
Employees no longer come to the office to send emails, but to meet others. It could be a colleague from their team or a different department, someone they like to go to the gym with, or someone that always brings homemade cookies to the coffee break.
The office has become a hub for both planned and spontaneous encounters that help employees maintain their social ties within the workplace and cultivate positive corporate relationships.
Therefore, with the emergence of hybrid organizations, the workspaces should be transformed by optimizing individual workstations and adding more collaborative spaces for teamwork, socializing, and events.
Personnel is also demanding more and more variety from the office. In a couple of years, it won't be weird anymore to see comfy sofas and coffee shops beside isolated, quiet individual desks.
Furthermore, meeting rooms have to adapt to both in-person and virtual participants: cameras, screens, and microphones are a must in a hybrid work environment.
Finally, the office becomes extremely connected. Starting from the instant reservation of workspaces and meeting rooms directly from a smartphone and finishing off with sensors in desks and smart lighting.
It is the connectivity that will allow HR and facility managers to turn the office into a great source of data on employee life quality, productivity, and organization.
There is no one simple way of managing and succeeding in the transformation towards hybrid working.
However, by following the four steps described above, getting assistance from specialized software, and listening continuously to the employees' feedback, companies will be able to find a unique hybrid work model that will suit their needs perfectly and produce positive results.
Until then, it's trial and error.